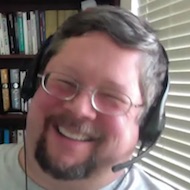 After a little over five years, I'm moving on from LivingSocial. What's next for me? Well, I'm looking for the right position. At LivingSocial, we've spent five years learning how a distributed software development team can be really effective. I'd like to help another company build on that experience.
For the past three years I've been one of the leaders of our engineering team, overseeing a department ranging in size from 30 to 50 software developers and managers (part of a larger engineering team of about 150). The majority of those people—including me and other senior managers—have worked from home. It hasn't all been smooth sailing, but we built a great team, learning valuable lessons about how a geographically distributed team can collaborate, manage work, recruit, train, mentor, maintain a healthy culture, and continually improve.
I've enjoyed being in the middle of that, working closely with our VP of Engineering and CTO, as well as the other department directors and the managers on my team. It's been a wonderful opportunity to add a new dimension to my 25 years of experience as a developer and software architect.
In the software industry, remote work and distributed teams are becoming increasingly common. Many companies now have employees who work mostly from home or from other locations. And there are good reasons to pursue that as a strategy. But running a distributed team is different from running a colocated team, and it's difficult to do it well. Most companies aren't seeing as much effectiveness from their distributed teams as they (and the teams) would like.
If you are building a distributed team and would like a senior, experienced engineering leader with solid technical chops to help you succeed, please contact me:
Email: glenn at this domain